JOIN STUDENTS IN OVER 30 COUNTRIES AND ENROLL IN OUR COURSES SPECIFICALLY CREATED FOR NANNIES
An educated nanny is a quality nanny. Increase your knowledge base and expand your caregiving and earning potential.
While of course much of the caregiving skills and knowledge childcare workers have can be transferred to nanny care, working as a household employee requires a much different approach to caregiving than those taken by other types of childcare providers.
Specialized nanny training can help nannies understand the unique role that they play in the lives of the families that they work for and equip them to work effectively as private in-home childcare providers.
The specialized nanny training offered at NannyTraining.com not only teaches childcare providers how basic childcare principles can be transferred to an in-home environment, but provides nannies with the knowledge they'll need to successfully navigate the nanny/employer relationship and the practical aspects of working as a private household employee.
According to the International Nanny Association Salary and Benefits Survey, a nanny's education and experience correlate with a higher hourly wage rate.
Nannies who invest in continuing education
Demonstrate that they are invested in their careers
Show commitment to improving their knowledge base
Have access to higher paying jobs
Earn more than those who do not have additional education
Students will earn their professional nanny certificate when they successfully complete all course lessons and the final exam.
The curriculum in this course aligns with the US Nanny Association National Standards and the clock hours from this course are accepted for the US Nanny Association Basic Nanny and Childcare Provider (BNCP) Credential.
Increase your earning potential by enrolling in our professional nanny training program today!
NannyTraining.com offers quality, affordable and easily accessible training specifically designed for in-home childcare providers. Our courses are created and taught by nanny industry leaders who understand the unique role nannies play as private childcare workers. Members of the International Nanny Association and the US Nanny Association, our training is aligned with current industry standards.
Michelle LaRowe has more than 25 years of nanny industry experience. As an International Nanny Association credentialed nanny and Nanny of the Year™ award recipient, Michelle has authored several parenting books including Nanny to the Rescue!,Nanny to the Rescue Again! and Working Mom's 411. Michelle has also served as executive director of the International Nanny Association, executive director of Morningside Nannies and editor of Nanny Magazine.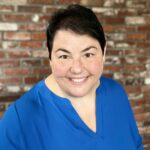 Lead Educator and Founder